Dethatching
Lawn dethatching is a technique that is used to clear away the matted layer of dead plant material (remove the excess thatch) that forms between the soil and your grass. It is best to dethatch the varieties of grass grown in our area in early fall. When lawns are dethatched in spring, there is a much greater risk of damaging the new grass crowns. If a severe thatch problem is discovered in spring, you are faced with deciding if more damage will be done by dethatching in spring or by leaving the thatch on the lawn for the summer. When it is time to dethatch, mowing the lawn fairly low just before starting will make the job easier.
When should I do Dethatching?
The best time for dethatching in most areas is late summer or early Fall/Autmn, when these grasses are growing and producing new runners.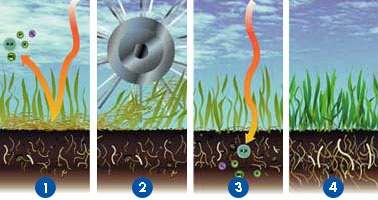 Huge Specials and Discounts
We are running regular specials and discounts for our local communities. Pricing can be seasonal, monthly and per time based off of your needs. Please contact us today for details at
(888) 973-7489
. We will be happy to give you a
FREE
estimate.
BEST RATES IN TOWN...
GUARANTEED TO BEAT ANY PRICE!

Free Estimates
24/7 Storm Emergency Services
Weekends & Holidays
Contact Information
LawnGreen Solutions, LLC
We provide services throughout Northern Virginia, Maryland and Washington DC metro areas.

Phone 1: (888) 973-7489
Fax No.: (571) 748-4232

Email: info@lawngreensolutions.com

Licensed & Insured