Fall Core Aeration Services!
Aeration and Overseeding
Is your lawn looking worn out and tired? Then it's time to give your lawn a breather…literally! Aerate your lawn and give it a breath of fresh air! We will Core Aerate your lawn, allowing the de-compaction of soil; increasing infiltration of water & nutrients, and enhancing the natural breakdown of thatch to improving your lawns overall health.
When should I aerate?
In Virginia, Maryland and DC the best time to aerate cool season lawns of tall fescue and Kentucky bluegrass is in late August to September. This is when these lawns are coming out of summer dormancy and beginning a period of vigorous growth. Lawns will recover quickly from aeration at this time. Competition from weeds is also minimal during this time
Benefits
Increases air, water and nutrient movement to the root zone. - Intensifies decomposition of thatch.
Helps relieve soil compaction.
Stimulates new growth.
Improves drainage.
Provides a better environment for overseeding.
Increases the effectiveness of applied fertilizers and control product.
Incorporates organic matter into the soil.
Increases tolerance to heat and cold.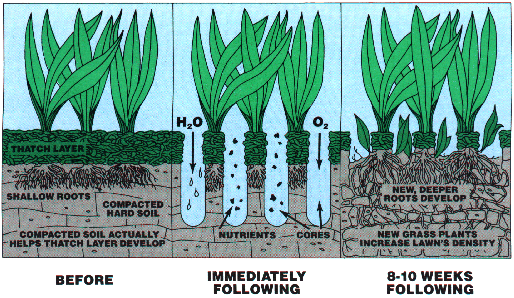 Huge Specials and Discounts
We are running regular specials and discounts for our local communities. Pricing can be seasonal, monthly and per time based off of your needs. Please contact us today for details at
(888) 973-7489
. We will be happy to give you a
FREE
estimate.
BEST RATES IN TOWN...
GUARANTEED TO BEAT ANY PRICE!

Free Estimates
24/7 Storm Emergency Services
Weekends & Holidays
Contact Information
LawnGreen Solutions, LLC
We provide services throughout Northern Virginia, Maryland and Washington DC metro areas.

Phone 1: (888) 973-7489
Fax No.: (571) 748-4232

Email: info@lawngreensolutions.com

Licensed & Insured